Key Performance Indicators (KPI)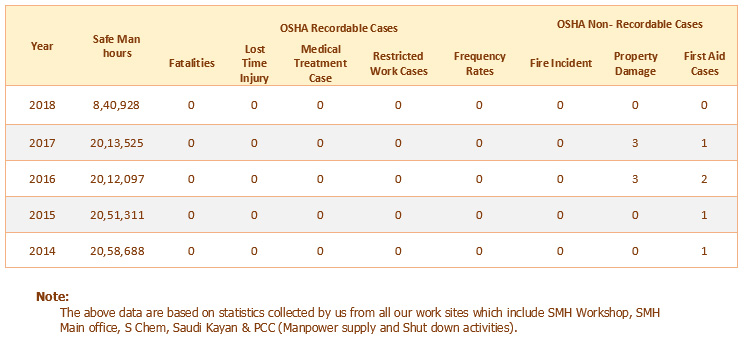 Safe Man hours
Safe Man hours - A safe man-hour is a unit of production completed without a lost-time injury or accident.
Fatality
Fatality - is define as the death of human caused by an accident, or is the quality of the disaster being able to cause the death of a human(s). Fatality in the context of occupational health and safety is a death caused by an accident at the workplace, on the way to and from the workplace, or during other works or movements directly or indirectly related to the occupation.
Lost Time Injury
Lost Time Injury - is an injury sustained by an employee that will ultimately lead to the loss of productive work time in the form of worker delays or absenteeism.
Medical Treatment Case
Medical Treatment Case - A recordable incident involving injury or illness that has required management and care of the patient above and beyond first aid, but not severe enough to be a reportable fatality or lost work day case or restricted work day case
Restricted Work Cases
Restricted Work Cases - is when a person is so injured that they cannot perform their normal duties. Therefore they are transferred, temporarily to some other jobs (light duties).
Incident frequency rates
Incident frequency rates data show the yearly frequency rates for recordable injuries, lost-time injuries and disabling injuries for each major industry sector.
Property Damage
Physical damage or destruction of tangible property caused by either an individual or by an equipment who may or may not be the owner of said property or by natural phenomenon.
First Aid
First aid refers to medical attention that is usually administered immediately after the injury occurs and at the location where it occurred. It often consists of a one-time, short-term treatment and requires little technology or training to administer.